Get 20% off your entire order through December 21. Use code WRITERGIFT at checkout.
The Wise Writer Within Oracle Deck is for those ready to unleash their voice and share the message in their heart.  test

Wise Writers channel their creativity into positive change. They want to leave a legacy of thoughtful writing because they know their words will change the world. Whether you are writing for your business, for a book, or in your own private journal, this deck will open up your brilliant creative flow. 
54 beautifully illustrated cards containing powerful statements, prayers, and archetypes will inspire and support you through writing blocks. The guidebook provides you with in-depth meanings of the cards, as well as writing prompts to liberate your Wise Writer Within.
Deck Features
54 88 x 126 mm oracle cards with a soft-touch matte finish and original artwork

140-page guidebook with instructions, in-depth card descriptions, and journaling prompts to inspire you

Sturdy two-piece box to protect your cards and guidebook
Ships Internationally
★★★★★ "I absolutely adore the deck! It has been instrumental for me in tapping into my deeper wisdom and helping me move forward in critical areas of my writing journey!" 
★★★★★ "I think this is my new writing strategy now … just pull a card and see what comes up! it feels accessible for me and reduces the overwhelm because I feel more guided by angels."
★★★★★ "I love the orchestration of this deck. It is extremely powerful when you apply the prompts from the cards you draw. I purged, removed the block and wrote my little heart out! Thank you Megan Barnhard for such an interactive deck! LOVE IT! Highly recommend!"
★★★★★ "When I pause, set my intention or focus on my question, the cards come to life and give me guidance. The way Megan designed the deck is so perfect because she truly understands the needs of spiritual women writers. Whether it's your epic poem, your daily social posts, your spiritual manifesto, inviting the Wise Writer Within deck will help you connect to yourself and your words so that your words can be as potent as possible. Thank you, Megan! You are a gift!"
★★★★★ "These cards reach down into our souls and bring forth gems we may not have known were there. I've taken to pulling at least one card before sitting to write each day because it helps me focus to begin. The Wise Writer Within Oracle Deck also makes a wonderful gift for just about anyone who puts pen to paper at all! Great help in overcoming the dreaded blocks, uncertainty, or fear of being seen, read, or heard! Your wise words are calling out to be shared! Cannot recommend a better writer's deck than this Wise Writer Within Oracle Deck!"
Get a Personalized Card Reading
This 1:1 intuitive reading will awaken your creative flow. You'll receive guidance and support from the cards to answer your questions about writing and creativity.
The answers are already within you. The cards and my intuitive channel will bring them into sharp focus. So you can trust your own inner wisdom and create with confidence.
"I loved my reading with Megan. I was looking for some insight and guidance on how to connect and communicate with my followers through writing. I felt like I hadn't found my voice yet in that regard, and I just couldn't make myself sit down and start writing. The reading revealed some very specific fears that I realized I needed to resolve before I could really start writing. Megan gave me some amazing exercises, including one to communicate with these fears and resolve them. If you are looking for more clarity on what is blocking you from writing, I highly recommend a reading with Megan!"
~ Christina Sander, Spiritual Teacher & Intuitive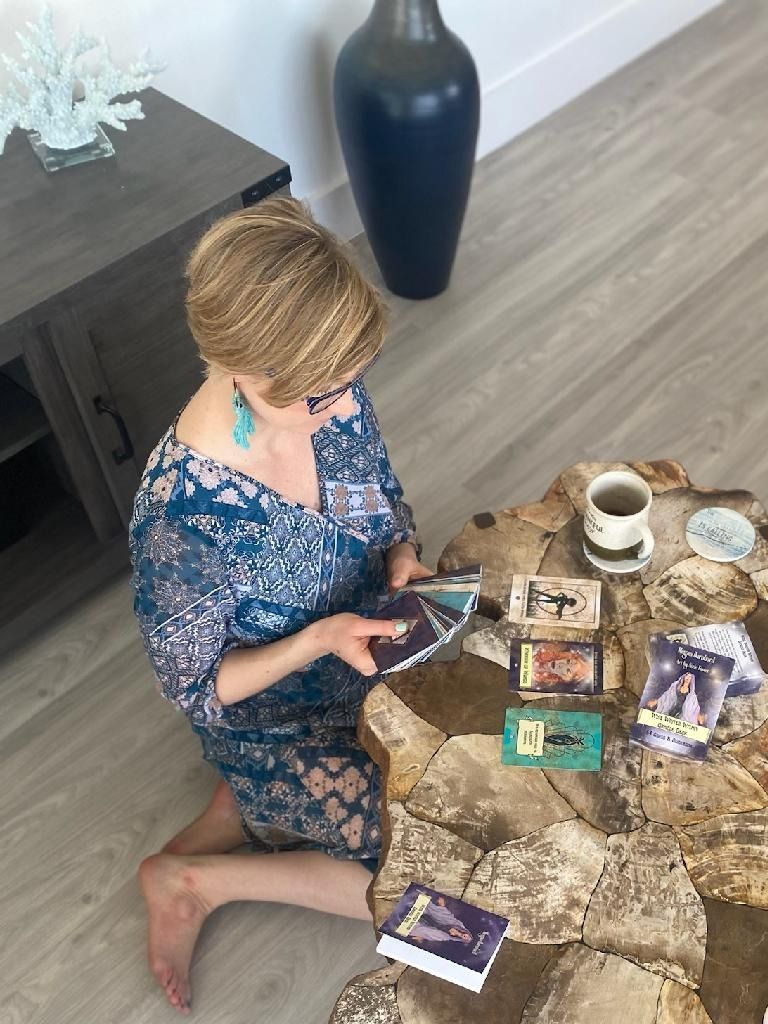 Stay Connected
Sign up to receive my Weekly Writing Love Notes. You'll get my best writing tips and insight delivered straight to your inbox.